The home of Mississippi Cultural Crossroads
---
Mississippi Cultural Crossroads has developed its own website. For the latest news on what Cultural Crossrads is doing, click here.
To see a selection of the Crossroads Quilters quilts offered for sale, click here.
---
Mississippi Cultural Crossroads receives national award
Mississippi Cultural Crossroads was one of ten groups to receive the Coming Up Taller Award. The award, outstanding work with youth living in distressed communities was presented in the Senate Caucus Room on Capitol Hill by the President's Committee on Arts and the Humanities in partnership with the National Endowment for the Arts and the National Endowment for the Humanities.
According to the award, The Port Gibson program "has created a place where children from all walks of life can come together and engage in community life through storytelling, traditional folk arts, and theater." The award carried a grant of $10,000.
---
Mississippi Cultural Crossroads wins second Governor's Award for Excellence in the Arts


MCC Director Patricia Crosby with the 2000 Heritage award
The Crossroads Quilters received a Governor's Award for Excellence in the Arts Friday, March 18, 2000,at a ceremony in Jackson. Crossroad Quilters, which includes about 20 active quilters, won the Heritage award for being "a group of women who have banded together to nurture, extend, and promote Mississippi's heritage of traditional quilting."
First Lady Melanie Musgrove presented the award, made from an Ostrich eggshell, to Mrs. Gustina Atlas and Mrs. Mary Ann Norton, two of 11 quilters who attended. "We are very happy to receive this award,'' Mrs. Atlas told the packed crowd in the House Chamber of the Old Capitol Museum. As she and the other quilters acknowledged a standing ovation, Mrs. Atlas said: "That is a hard-working group of ladies." The organization won a Governor's Award for Excellence in the Arts in 1990 for its partnerships with the Claiborne County Board of Supervisors. "I always stand in awe of the artists from Mississippi," said Gov. Ronnie Musgrove. "Mississippi artists, no matter how far from home they travel, remember their roots. Their creative souls are imbedded in Mississippi soil."
For more information, click here.
---
Annual Quilt Show
Mississippi Cultural Crossroads (MCC) will hold its annual Pieces and Strings Quilt Contest and Show at the end of March. The quilts will be on display at Mississippi Cultural Crossroads and the winning quilts will be on display in the Atrium Gallery of the Mississippi Museum of Art on Pascagoula Street in Jackson during May and June.
Prizes are awarded to quilts in several categories. The Shaifer Family Prize of $500, is awarded to the quilt judged best in the show. Additional prize money has been donated by Dr. Michael Ellis in honor of his great grandmother Ruth Newlin. The Ruth Newlin Prize goes to the first place quilt in the traditional patterns category. Additional awards were donated by Mississippi Southern Bank and Piggly Wiggly.
Other categories are: Strings and Bits and Pieces, Appliquéd, Children's Collaborations, Small Pieces (New Quilters Division), Miniature, Whole Cloth and Machine Quilted..
---
Mississippi Cultural Crossroads sponsors Crossroads Quilters. This is a loosely organized group of primarily African-American women who display and sell their one-of-a-kind handmade quilts at the Crossroads Building. Crossroads Quilters sold over $30,000 worth of quilts in the past year.
Members of Crossroads Quilters and their quilts have been featured in Ladies Circle Patchwork Quilts, Mississippi Magazine, Country Roads, Teaching Tolerance, Country America, The Women of Color Quilters Network Newsletter, Mississippi: The State, The Quilt Encyclopedia Illustrated, and American Craft.
Crossroads Quilters' work has been displayed at the National Quilter's Museum in Paducah, Ky., the Anglo-American Museum in Baton Rouge, Gasperi Gallery in New Orleans, Artswatch in Louisville, the National Civil Rights Museum in Memphis, and the Guadeloupe Cultural Arts Center in San Antonio. Crossroads Quilters has four Traveling Exhibits available for loan.
Click for more information.
---
Admission to all exhibitions is free of charge.
---
Quilts and Quilting in Claiborne County

David Crosby has written, Quilts and Quilting in Claiborne County, published by Mississippi Cultural Crossroads. The work includes 38 full color photographs of quilts and quilters and three diagrams showing how selected quilts are constructed. Some of the local women whose work is represented in the booklet are master quilters Gustina Atlas, Mary Ann Norton. Geraldine Nash, and Mrs. Rankin. Also included are Artemeasie Brandon, Malissa Banks, Essie Buck, Sarah Carpenter, Mary Lou Carter, Geneva Gibson, Lorraine Harrington, Georgia Harris, Darlene Jones and Annist Marshall.
The book discusses both African-American and European-American quilting styles and analysis construction techniques and color choices. It describes the different effects that can be obtained by using block, strip, string and appliquéd patterns. It is one of the few books on quilting that seeks to document an important regional style of traditional quilting and how it is evolving.
Copies of the book are on sale at Mississippi Cultural Crossroads and at bookstores across Mississippi. You may also download an Order Form in pdf format.
---

Hystercine Rankin awarded National Heritage Fellowship.
Crossroads Quilter, Mrs. Hystercine Rankin has been awarded a $10,000 National Endowment of the Arts National Heritage Fellowship. The annual award was presented to 11 folk artists from across the nation. Mrs. Rankin has been a master quilter and teacher at Mississippi Cultural Crossroads since 1988.
In 2003, Mississippi Cultural Crossroads will sponsor Peanut Butter and Jelly Theater for its 17th season of touring Mississippi and nearby states with the show Be a Reader.
Previous shows have featured interpretations of Aesop's Fables and several folk tales including "Willie and the Mess of Brains," "The Monkey and the Buzzard," and "The Possum and the Snake." The company has performed "play-party" songs and poems by Eloise Greenfield, Langston Hughes, and Shel Silverstein.
P B & J will tour between June 16 and June 30 under the artistic direction of David Crosby. The assistand director will be Abigail cooper. For more information, contact David Crosby, or visit the Cultural Crossroads website.
---
In the fall of 1988, Mississippi Cultural Crossroads brought the Cornerstone Theatre Company to Port Gibson for a residency. Cornerstone created a musical version of Romeo and Juliet. The production made the cover of American Theatre, and also was covered by the New York Times, the New Orleans Times Picayune and other important publications. The American Theatre cover shows Cornerstone's Amy Brenneman as Juliet and Port Gibson High school student Edret Brinston as Romeo. There was also, an article on the production published in Theatre Topics.

---

I Ain't Lying
---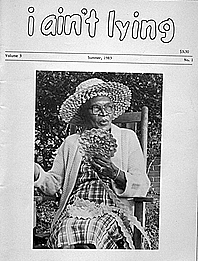 Mississippi Cultural Crossroads has published three volumes of I Ain't Lying. The publication showcases interviews of local citizens and photographs done by local high school students. Volumes of I Ain't Lying and other merchandise may be ordered from The Crossroads Store.

Return to page top
---

Mississippi Cultural Crossroads also sponsors Artists in the Schools programs, a Summer Art Program, an After School Art program and other community activities.

Mississippi Cultural Crossroads is a two-time winner of the prestigious Governor's Award for Excellence in the Arts.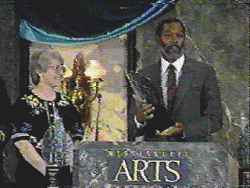 (Left) The 2000 Heritage Award. (Right) Mississippi Cultural Crossroads Director Patty Crosby accepts the 1990 award from Claiborne County Supervisor Albert Butler.
---
Other Activities
In 1996, Mississippi Cultural Crossroads Participated in the National Folklife Festival in Washington and the Cultural Olympics in Washington, DC To read about this and other past events click here.
---

Mississippi Cultural Crossroads receives funding from the National Endowment for the Arts, the Mississippi Arts Commission, The Mississippi Humanities Council, the Claiborne County Board of Supervisors and the City of Port Gibson.


For further information about Mississippi Cultural Crossroads, contact: Patricia Crosby or write:
Mississippi Cultural Crossroads 507 Market Street Port Gibson, MS 39150 (601) 437-8905


According to the Web-Counter you are visitor
Since June 20, 1996
Page updated May 14, 2003
---

Return to the Port Gibson Homepage