Cultural Crossroads hosts distinguished visitors in the summer of 1996.

Authors Willie Morris and William Styron pose with mural artist Dennis Sullivan. From L to R, Jo Ann Pritchard (Willie Morris' wife), Willie Morris, Rose Styron, William Styron, Dennis Sullivan.

Cultural Crossroads Participates in Folklife Festival
Mississippi Cultural Crossroads was invited to be one of the featured institutions in the Smithsonian's 1996 Festival of American Folklife - June 26 - 30 and July 3 - 7.
Cultural Crossroads Director Patricia Crosby made presentations on culture and community building. Port Gibson residents Geraldine Nash, Mary Ann Norton and Essie Buck were demonstrating artists and conducted workshops for children.
---
Cultural Crossroads at the Olympics
Following the Festival on the Mall this summer, a special program on the American South, "Southern Crossroads," was part of the celebration of the 1996 Olympic Arts Festival in Atlanta, July 18 - August 3. Produced with The Atlanta Committee for the Olympic Games Cultural Olympiad in cooperation with the Southern Arts Federation, "Southern Crossroads" was presented by AT&T.
Mississippi Cultural Crossroads was represented by Geraldine Nash, Essie M. Buck, Jessica Crosby, and Loraine Harrington, The Festival Marketplace featured 58 quilts, 50 pillowcases and other handicrafts by seven local artists.
---
Summer Drama Program held June 10 - 28, 1996
Actress Miki Whittles Shelton of Chicago's greasy joan & co directed local children in improvisation, theater games and mask work. The program concluded with a public performance by the Peanut Butter & Jelly Kids on June 28.
---
Mississippi Cultural Crossroads also brings in productions by touring companies such as Carpetbag Theater's Dark Cowgirls and Prairie Queens.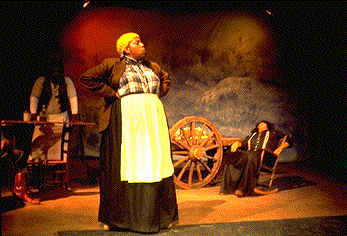 ---
Return to the Cultural Crossroads Page