Port Gibson Main Street
---
---
Port Gibson Main Street Mission Statement
To facilitate economic revitalization of Port Gibson's downtown district within the context of historic preservation, focusing on the unique heritage of Mississippi's third oldest town while maintaining the architectural integrity of historical structures through planned, progressive development and strong community commitment.
---
Port Gibson Main Street is affiliated with the Mississippi Main Street Program and The National Main Street Center of the National Trust for Historic Preservation in Washington DC Port Gibson gets a nice mention on the Main Street Web site.
---
Port Gibson Main Street sponsors the annual Main Street Heritage Festival. This years Festival will be held Saturday March 25th. Further details may be found on the Port Gibson Events page.
---



For more information, contact: Mr. Al Hollingsworth Port Gibson Main Street PO Box 607 Port Gibson, MS 39150 (601) 437-4500
---
PORT GIBSON MAIN STREET

AWARD PROGRAM

1998 AWARD OF MERIT

· Nancy and B.G.Jones - Interior rehabilitation of Port Gibson Art and Gift Gallery - 204 Walnut Street

· Jerry Bangham - Development and maintenance of an Internet site for Port Gibson and Claiborne County

· Deborah Purviance - Leadership in development of the sixteen page feature on Port Gibson/Claiborne County published in the 1997 Holiday Edition of Colonial Homes

· Mississippi Southern Bank - Steadfast support of the Port Gibson Main Street Program

· Port Gibson Bank - Steadfast support of the Port Gibson Main Street Program

1998 AWARD OF EXCELLENCE

· Hystercine Rankin - Acknowledging her lifelong achievement as a traditional artist and the honor she has brought to her community

SIGNIFICANT ACHIEVEMENTS

1997

Organization:
7th Annual Meeting, Award Ceremony and Reception was held on January 21st at City Hall; 67 volunteers attended
Two Special Awards of Merit were presented for lifelong contributions to the retail community
During the year Port Gibson Main Street was featured in 9 statewide news articles and 18 local articles
Included as a case study in Saving America's Countryside -; A Guide To Rural Conservation (second edition) Published in 1997
Participated in The Countryside Institute's 10th Anniversary Celebration
One of three communities highlighted in Shaping The Future- Lessons Learned
Presented the Port Gibson Story at Cold Spring, N.Y., October 23 - 25, 1997
Received one of three Countryside Community Achievement Awards for 1997
Russ Miller and Amelda Arnold participated in Countryside workshops on November 6-8, 1997 (Air travel paid by Mississippi Southern Bank and Port Gibson hank)
The Port Gibson Main Street Story
A presentation was made to approximately 300 participants in the South Carolina Governor's Rural Summit held in March
A follow-up presentation was made to approximately 70 volunteers and community leaders in Allendale, S.C. in June
Promotion:
Sponsored the 5th Port Gibson Main Street Heritage Festival on March 22, 1997. Events included:
Dilla Dash (5K walk/run)
Children's Activities
Arts and Crafts Show
Food Fair
Music
Historic Guided Tours
The Original Mississippi Venison Cookoff

Award of Excellence received from MDDA for the Dilla Dash as an outstanding special event.
Sponsored the 4th Annual Children's Halloween Celebration on October 25, 1997 - over 100 children participated.
Sponsored the 7th Annual Festival of Carols and Lights on December 4, 1997
Sponsored the 8th Annual Main Street Christmas Parade on December 6, 1997
In cooperation with the Chamber of Commerce, co-sponsored the 1997 Shop At Home activities in December
Economic Restructuring:
Six new businesses located in the Main Street District
Port Gibson Art and Gift Gallery
Smitty's Furniture Company
Port Gibson Music Services
Each opening was celebrated with a ribbon cutting ceremony
Design:
Completed plans for the tree planting project in the 600 block of Market Street. Trees will be planted in February.
Expanded the downtown planter program to 62 pots.
Port Gibson Main Street Statistical Summary

| | | |
| --- | --- | --- |
| | Life of Program (10/90 - 10/97) | 1997 |
| New Businesses | 36 | 6 |
| Lost Businesses * | 24 | 3 |
| Business Expansions ** | - | 1 |
| Facade Renovations | | |
| | 9 | 1 |
| | 33 | 1 |
| New Buildings | 1 | 0 |
| Public Investment | $ 3,082,776 | $ 55,051 |
| Private Investment | $ 567,700 | $ 79,100 |
| New Jobs | 109.5 | 11 |
| Lost Jobs | 42 | 3 |
| Facade Grants Paid | 10 | 1 |
| Low Interest Loans Processed | 2 | 0 |

* 5 of these businesses relocated to areas Outside the Main Street District but within Port Gibson
** Not recorded as expansions prior to 1997

The Renewal of Main Street
Photographs by Al Hollingsworth
---

The former Planter's Hotel, now the office of Dr. David Headley
---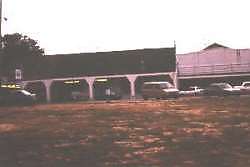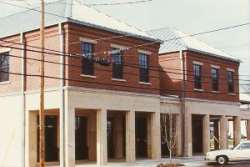 From a vacant lot to the new Matt Ross County Administration Building
---

Our Mart Grocery, a Civil Rights Landmark
---

The Harriette Person Memorial Library
---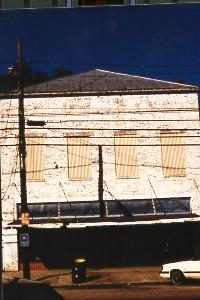 The Dagel Building
---

The Mississippi Power and Light Building
---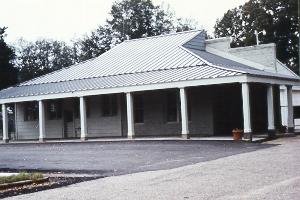 The Port Gibson Water Department
---

The Main Street Planter Program
---